Bolton Wanderers hit with winding-up petition
Fri, 28 Apr 2017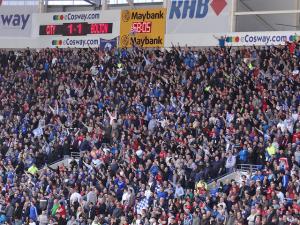 Bolton Wanderers have been issued with a winding-up petition over an unpaid £5 million loan that paved the way for a takeover of the League One side.
Finance firm BluMarble lent the money to Sports Shield BWFC, a consortium led by former Bolton striker Dean Holdsworth. Alongside Inner Circle Investments, headed by chairman Ken Anderson, it took a controlling stake in Burnden Leisure, which owns Bolton.
In March, Anderson acquired Holdsworth's shares to become the majority owner of the club.
A winding-up petition is a legal notice put forward by a creditor who aims to have a company liquidated in order to force repayment of debt.
According to our research, there was a
28 per cent rise
in the number of petitions issued in the first quarter of this year compared to the final quarter of last year.
A High Court date for Bolton Wanderers has been set for 22 May. In a statement the club said: "Bolton Wanderers Football Club has been made aware of the proposed action by BluMarble in respect of their arrangements with Sports Shield BWFC.
"This matter relates to Sports Shield BWFC and it is therefore inappropriate for either Burnden Leisure, Bolton Wanderers Football Club or Inner Circle Investments to comment and as such will not make any further statement about this issue at this present time."
Read more about winding-up petitions, including the opportunities they present for buyers of distressed businesses, in our latest
subscriber-only report
- How does the winding-up petition process work? Are there opportunities for entrepreneurs?
Subscribe today to read and search all our news, premium articles, business sale listings and buy/sell resources.
Do you want to gain access to the latest businesses for sale as well as all UK administrations, liquidations and all winding-up petitions?
Business Sale Report is your complete solution to finding great aquisition opportunities.
10 Biggest Buyer Mistakes
Fill in your details below to get our FREE guide