Cannes organiser Ascential to sell exhibitions arm
Tue, 27 Feb 2018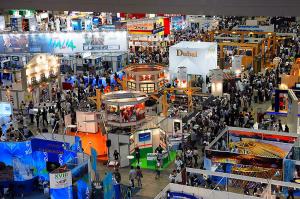 Ascential, the company that runs many of the world's leading festivals, exhibitions and events, has announced that it could sell its live events arm to raise £300 million and allow it to focus on different business areas.

According to a report in the times, the specialist information group – formerly known as Emap – said that was undertaking a strategic review of its exhibitions business which could lead to it being sold.

The division, which generated some £78 million of revenue in 2017, runs home and gift shows in the retail industry, a series of educational tech events, Spring and Autumn fairs and Pure, a fashion trade show.

Any sale of the business unit is likely to include SWIEME, a series of events for the automotive, consumer electronics and energy sectors but will not account for Cannes Lions, the world-famous festival and awards for the creative, entertainment and design industries, or Money 20/20, a platform for events in the fintech payments space soon to launch in China.

Ascential is expected to fetch proceeds of between £250 million and £300 million if the sale goes through which it will use to pursue new acquisitions. After the news came out, the firm's share price jumped by almost 6 per cent in 24 hours.

The company can trace its history back to 1887 when Sir Richard Winfrey bought the Spalding Guardian, one of many newspapers which consolidated to form the East Midland Allied Press (Emap) in 1947.

In 1996, Emap then sold 65 newspaper titles to Johnston Press and its consumer magazines and radio business to German publisher H Bauer, leaving behind a business-to-business and events group that renamed as Top Right Group in 2012, before rebranding as Ascential three years later.

The firm's strategic review comes as it celebrated a strong set of annual figures, with operating revenues growing by 6.4 per cent and underlying earnings growing by 3.4 per cent.
Subscribe today to read and search all our news, premium articles, business sale listings and buy/sell resources.
Do you want to gain access to the latest businesses for sale as well as all UK administrations, liquidations and all winding-up petitions?
Business Sale Report is your complete solution to finding great aquisition opportunities.
10 Biggest Buyer Mistakes
Fill in your details below to get our FREE guide