Jobs saved after buyer found for menswear retailer Greenwoods
Tue, 24 Oct 2017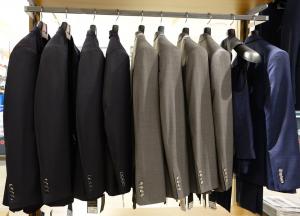 A Yorkshire-based menswear chain has been bought out of administration by a new trading company, saving 181 jobs and 40 retail stores around the UK.
Greenwoods, a retailer of formal and casual menswear headquartered in Bradford, announced that it would enter administration in September on the back of a "challenging time for the UK retail sector".
Adrian Berry and Clare Boardman, both from Deloitte, were appointed joint administrators at the time, overseeing Greenwoods' workforce of more than 300. At the time, the menswear firm had an annual turnover of £20 million.
A new deal agreed with recently incorporated firm Versatile International Trading will allow 40 of Greenwoods stores, its central warehouse and head office to remain open, with 26 staff transferring to work at the new company.
Shops that will remain open include those in Barnsley, Bradford, Doncaster, Huddersfield and Wakefield.
The buy-out will result in 22 stores closing and 88 jobs being lost, though more than 200 store workers' jobs are thought to have been preserved.
Two unstaffed Greenwoods concession stores were closed early on into administrative proceedings, along with a retail location in Rugby.
After being in administration for just over six weeks, Berry described the sale to Versatile as "the best outcome for the business".
He added: "A significant proportion of the employees now have their jobs protected and we would like to thank all of them for their support during this difficult period."
Greenwoods was founded as a hat shop by Sir Willie Greenwood almost 150 years ago in 1860, with its first branch opened in Bradford.
Search
businesses in administration
Subscribe to the
Business Sale Report
Subscribe today to read and search all our news, premium articles, business sale listings and buy/sell resources.
Do you want to gain access to the latest businesses for sale as well as all UK administrations, liquidations and all winding-up petitions?
Business Sale Report is your complete solution to finding great aquisition opportunities.
10 Biggest Buyer Mistakes
Fill in your details below to get our FREE guide