More services the aim for Huddersfield accountancy firms' merger
Thu, 28 Sep 2017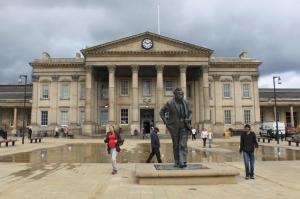 Two accountancy firms based in Huddersfield have announced that they will merger in order to provide a larger range of services to their clients.
Simpson Wood, based in the centre of the town, and Bamforth & Co, located in nearby Slaithwaite, will join forces to consolidate their offerings to focus on tax planning, financial services and pension planning, estate administration, payroll and management accounts.
From 1 October 2017, the new business – named Simpson Wood incorporating Bamforth & Co – will be based at Simpson Wood's offices and employ a combined 50 people from both firms.
Simpson Wood, which also has a satellite office in Penistone, South Yorkshire, has grown its annual turnover from £1.6 million to £2.2 million over the last three years, with an aim to hit £3 million by 2020.
The firm's managing director, Mark Fielding, said that having been based in Huddersfield for more than 140 years meant his firm was perfectly positioned to "understand the needs of our clients".
He added: "The combined entity means we're creating an even broader pool of expertise that will be highly attractive to the region's companies, owner-managed businesses and individuals seeking professional advice and accountancy services."
Similarly Bamforth & CO, which has been based in Slaithwaite for almost 20 years, has grown its business sustainably in recent years.
Adam Bamforth, partner at the firm that shares his name, said that the two businesses "admired and respected" each other for their depth of knowledge and good business sense.
He added: "My co-partner Diane Pettinger and I very much look forward to being part of this new entity, and we are delighted that our clients will benefit from an even greater breadth of service and experience."
Find a
business for sale
.
Subscribe to the
Business Sale Report
.
Subscribe today to read and search all our news, premium articles, business sale listings and buy/sell resources.
Do you want to gain access to the latest businesses for sale as well as all UK administrations, liquidations and all winding-up petitions?
Business Sale Report is your complete solution to finding great aquisition opportunities.
10 Biggest Buyer Mistakes
Fill in your details below to get our FREE guide