Waterstones considers 2018 sale
Mon, 30 Oct 2017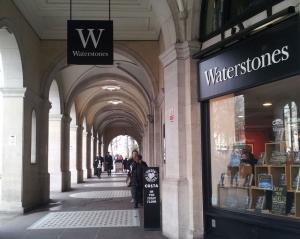 The high street bookselling giant Waterstones could be putting itself up for sale, it has been reported.
The chain's Russian billionaire owner, Alexander Mamut, has seemingly appointed the financial advisory group NM Rothschild to give counsel on strategic options that include refinancing the company's debt or preparing it for an outright sale.
Waterstones' debts come largely from about $100 million of loans from the Russian Commercial Bank – a bank that is part-owned by Otkritie bank, where Mr Mamut is a leading shareholder.
Mr Mamut bought the chain from HMV in 2011 for £53 million, and has revealed that he has not taken a dividend since the purchase.
In February of this year, Waterstones announced that they were back in the black as they fought against the rise of e-readers and returned to profits.
Waterstones reported a pre-tax profit of £9.9m in the year to April 2016. Sales in that year rose four per cent to £409m, delivering a pre-tax profit of £9.9m, as the retailer felt the benefit of a decision several years ago to allow each branch to order its own books, rather than take bulk orders from the publishers. It's expected that the company's next set of accounts will show earnings of around £40m, meaning the business could be worth in the region of between £200m and £300m.
It's not expected that any significant decisions will be made until Waterstones is through its Christmas rush which produces 85 per cent of the retailer's annual profits.
Find a
business for sale
Subscribe to
Business Sale Report
Subscribe today to read and search all our news, premium articles, business sale listings and buy/sell resources.
Do you want to gain access to the latest businesses for sale as well as all UK administrations, liquidations and all winding-up petitions?
Business Sale Report is your complete solution to finding great aquisition opportunities.
10 Biggest Buyer Mistakes
Fill in your details below to get our FREE guide